29 items in de category Malta_Independent.com.mt_ in dinsdag De links 1 t/m 29.

Malta: Malta Independent.com.mt : (Laatste update: dinsdag 21 september 2021 09:05:07)
Trudeau's Liberals win Canada election, but miss majority


Canadians gave Prime Minister Justin Trudeau's Liberal Party a victory in Monday's parliamentary elections, but his gamble to win a majority of seats failed and nearly mirrored the result of two years ago.

The Liberals won the most seats of any party. The 49-year-old Trudeau channeled the star power of his father, the Liberal icon and late Prime Minister Pierre Trudeau, when he first won election in 2015 and has led his party to the top finish in two elections since.

Trudeau's Liberals were leading or elected in 156 seats — one less than they won 2019, and 14 short of the 170 needed for a majority in the House of Commons.

The Conservatives were leading or elected in 121 seats, the same number they won in 2019. The leftist New Democrats were leading or elected in 27, a gain of three seats, while the Quebec-based Bloc Québécois remained unchanged with 32 seats and the Greens were down to two.

"You are sending us back to work with a clear mandate to get Canada through this pandemic," Trudeau said.

"I hear you when you say you just want to get back to the things you love and not worry about this pandemic or an election."

Trudeau entered the election leading a stable minority government that wasn't under threat of being toppled.

The opposition was relentless in accusing Trudeau of calling an unnecessary early vote — two years before the deadline — for his own personal ambition.

"Trudeau lost his gamble to get a majority so I would say this is a bittersweet victory for him," said Daniel Béland, a political science professor at McGill University in Montreal.

"Basically we are back to square one, as the new minority parliament will look like the previous one. Trudeau and the Liberals saved their skin and will stay in power, but many Canadians who didn't want this late summer, pandemic election are probably not amused about the whole situation," he said.

Trudeau bet Canadians didn't want a Conservative government during a pandemic. Canada is now among the most fully vaccinated countries in the world and Trudeau's government spent hundreds of billions of dollars to prop up the economy amid lockdowns. Trudeau argued that the Conservatives' approach, which has been skeptical of lockdowns and vaccine mandates, would be dangerous and says Canadians need a government that follows science.

Conservative leader Erin O'Toole didn't require his party's candidates to be vaccinated and would not say how many were unvaccinated. O'Toole described vaccination as a personal health decision, but a growing number of vaccinated Canadians are increasingly upset with those who refuse to get vaccinated.

"The debate on vaccination and Trudeau taking on the anti-vaccination crowd helped the Liberals to salvage a campaign that didn't start well for the party," Beland said.

Trudeau supports making vaccines mandatory for Canadians to travel by air or rail, something the Conservatives oppose. And Trudeau has pointed out that Alberta, run by a Conservative provincial government, is in crisis.

Alberta Premier Jason Kenney, an ally of O'Toole, said the province might run out of beds and staff for intensive care units within days. Kenney apologized for the dire situation and is now reluctantly introducing a vaccine passport and imposing a mandatory work-from-home order two months after lifting nearly all restrictions.

"Hubris led Trudeau to call the election. He and the Liberals won the election but lost the prize they were seeking. This is only a great night for the Liberals because two weeks ago it appeared they would lose government outright something they could not fathom before they gambled on an election," said Nelson Wiseman, a political science professor at the University of Toronto.

Wiseman said the Conservatives were hurt by the situation in Alberta. "The explosion of the pandemic in Alberta in the past 10 days undermined O'Toole's compliments of the Alberta Conservatives on how they had handled the pandemic and reinforced Trudeau's argument for mandatory vaccinations," he said.

A Conservative win would have represented a rebuke of Trudeau against a politician with a fraction of his name recognition. O'Toole, 47, is a military veteran, former lawyer and a member of Parliament for nine years.

"Canadians did not give Mr. Trudeau the majority mandate he wanted," O'Toole said.

O'Toole said he was more determined than ever to continue but his party might dump him after it dumped the previous leader who failed to beat Trudeau in 2019.

O'Toole advertised himself a year ago as a "true-blue Conservative." He became Conservative Party leader with a pledge to "take back Canada," but immediately started working to push the party toward the political center.

O'Toole's strategy, which included disavowing positions held dear by his party's base on issues such as climate change, guns and balanced budgets, was designed to appeal to a broader cross section of voters in a country that tends to be far more liberal than its southern neighbor.

The son of a long-time politician has faced criticism he will say and do anything to get elected.

Whether moderate Canadians believed O'Toole is the progressive conservative he claims to be and whether he alienated traditional Conservatives became central questions of the campaign.

Regina Adshade, a 28-year-old Vancouver software developer, said she was bothered that an election was called early, during a pandemic and with wildfires burning in British Columbia. But it didn't stop her from voting Liberal because the party represents her values.

"I don't love there was an election right now but it wasn't going to change my vote," she said.

Trudeau's legacy includes embracing immigration at a time when the U.S. and other countries closed their doors. He also legalized cannabis nationwide and brought in a carbon tax to fight climate change. And he preserved free trade deal with the U.S. and Mexico amid threats by former U.S. President Donald Trump to scrap the agreement.

Former U.S. President Barack Obama and ex-Democratic Party nominee Hillary Clinton tweeted support for Trudeau. There wasn't a Trump endorsement of O'Toole. Conservative campaign co-chair Walied Soliman said there is no alignment whatsoever between O'Toole and Trumpism. Soliman said earlier in the day holding Trudeau to a minority government would be a win for O'Toole.

Liberals governed Canada for 69 years during the 20th century. Pierre Trudeau called for a "just society" and ran the country with a panache not seen before from a Canadian leader. He is responsible for Canada's version of the bill of rights and is credited with opening the door wide to immigration.

Trudeau's Liberals dominated in Toronto, Canada's largest city and one of the most multicultural cities in the world.


Tue, 21 Sep 2021 08:56:00 +0100

Iron products manufacturer invests €3m in new Hal Far plant


A company that manufactures iron structures has invested €3million into a new plant in Hal Far, economy minister Silvio Schembri announced on Monady.

The increase in demand which General Maintenance Ltd will now be able to accommodate will lead to the creation of about 20 new jobs, including those of engineers, designers, CNC programmers, welders and fabricators. This has led to an increase in the number of workers with the company which now employs 50 people, while it also increases the number of service providers who use it, a fact which in turn can also generate more work.

The €3 million investment covers the structural infrastructure of the hangar, machinery and automation equipment, so that the company can improve efficiency and raise the quality of its product for all its clients, both local and international. With its new capabilities, it will serve as an important service provider, so that our country can continue to modernize its infrastructure.

Schembri said the project which was only made possible through the allocation of around 3,500 square meters of land which INDIS Malta granted to General Maintenance Ltd.

This project is part of the course of action of a Government that wants to ensure the best use of the land available for the industrial sector, so that more investment can be accommodated, he said. This is while INDIS Malta is working on improving the infrastructure of industrial areas in Malta, including that of Ħal Far.

"We are committed to creating an ideal country for investment which will improve the quality of life. The climate of economic resilience that we have managed to achieve together is clearly reflected in the resilience shown by Maltese industries. Ambitious entrepreneurs, who courageously strive to maintain their competitive advantage not only in the local market but also by traversing abroad and seeking to compete with their heads held high in international markets," said the Minister.

Minister Schembri concluded with a message of encouragement to entrepreneurs, "We are with you to help you grow your infrastructure operations and to open the doors to international business opportunities. In exchange, we expect investment in workers, who are the backbone of the Maltese economy."

The director of the company, Matthew Camilleri, spoke about how with this assistance from INDIS Malta, General Maintenance will be able to undertake more work and projects both locally and internationally because it will have available the land and tools to continue to build on what it has already created, including recently announced projects. These projects include a 110m long iron structure which was used in the Blata l-Bajda pedestrian bridge project, high security fencing work around the Army Bomb Disposal Unit located at Fort Mosta, the new Enemed fuel storage pipelines in Ħas Saptan, and work on pipelines for a super yacht in Spain.


Tue, 21 Sep 2021 08:28:00 +0100

TMID Editorial: Prison - Minister, something is clearly wrong


Home Affairs Minister Byron Camilleri has kept Alexander Dalli in charge of the prison, despite the serious concerns over his style of leadership.

13 deaths have occurred in prison over the past three years. A number of them were sui- cides. Something is clearly wrong and is not working right.

The minister was asked during an interview with The Malta Independent on Sunday whether he still thinks Dalli is the right per- son for the job.

"I always said that I take decisions based on facts. I will do the same today (...) At times there was speculation. I decide on facts, such as on inquiries which conclude for example. In the coming days I hope to have in hand the copy of the last inquiry. I would also have the report of the inquiry that I had appointed. So every time I come to take a decision, I would do so based on facts, as that is my ob- ligation as a minister."

The minister's answer implies that Dalli's position is dependent on what the inquiries

will uncover. It must be pointed out however, that perhaps an inquiry into the prison pro- cedures as a whole should have started far earlier than it did. And failure for that to have happened lies solely with the minister.

Something is clearly wrong with the prison system, and something needs to be done. The prison leadership situation needs to be tack- led.

The minister also mentioned that there is order now in the prison when there was none before. If that is the case, one must question how that order was brought about? Was it brought about in the right way or the wrong way?

Should the inquiry find that prison proce- dures are too harsh, then Dalli must be re- moved, and the minister would also need to personally carry responsibility.

During the interview, the minister did men- tion some things, however, which are quite positive.

Firstly, the government recently announced the introduction of electronic tagging for certain offences. This is a step in the right direc- tion. At least such people would be able to keep working or studying, thus being in a bet- ter position to rehabilitate themselves.

The minister had also mentioned another possible future change. "There should be three levels within our prison system. The first is electronic tagging. The second is low or lower security prisons. The third level is a high security prison. One of the problems we currently have is that, unfortunately, every- one is in the same boat, from the biggest criminals to a person who is in jail but likely doesn't have a criminal character."

The idea of splitting up the hardened pris- oners from others who could be placed in a lower security prison is not a bad one. Indeed having the two mixed as currently occurs might negatively affect the rehabilitation of a number of prisoners.

One hopes that such a move, coupled with intense steps towards more rehabilitative measures, could indeed lead to less repeat of- fenders.


Tue, 21 Sep 2021 08:15:00 +0100

Pharmacies opening today between 9am and noon


Floriana: Chemimart Pharmacy, 14, St Anne Street; Ħamrun: Cosmed Pharmacy, Soccors, 7 Franciscans Street in Villambrosa Street; Qormi: Anici Pharmacy, Anici Street; Santa Venera: St Bartholomew Pharmacy, 30, Fleur-De-Lys Road; Gżira: O'Hea Pharmacy, 128, Manoel de Vilhena Street; St Julian's: St Julian's Pharmacy, 24, G. Borg Olivier Street; Sliema: Stella Maris Pharmacy, 34, Millner Street; Iklin: Iklin Pharmacy, Geronimo Abos Street; Għargħur: Smiths St. Albert Pharmacy, Oratory Street; Buġibba: Promenade Pharmacy, Pioneer Road; Tarxien: Tarxien Pharmacy, 59, Tarxien Road; Kalkara: Brown's Pharmacy, 8, Archbishop Gonzi Square; Xgħajra: St Elias Pharmacy San Elija Street; Għaxaq: St Philip Pharmacy, Ċeppun Street; Luqa: St Andrew's Pharmacy, 25, Dun Pawl Street; Żebbuġ: Spiżerija Ħal Mula, Dun Salv Ciappara Street; Rabat: Ideal Pharmacy, 63, Main Street;

Malta International Airport: The '8 Till Late Pharmacy' is open every day from 8am to 10pm

Gozo: 9am to noon

Victoria: Castle Pharmacy, 2, Independence Square; Xagħra: Xagħra Pharmacy, 55, Parish Street


Tue, 21 Sep 2021 07:10:00 +0100

Watch: 'We are the party of the future' – Robert Abela
Prime Minister and Labour Party leader Robert Abela said Monday that the PL has clearly shown the public that "we are the party of the future."
The Labour Party closed off its general conference with with a rally held at the MFCC in Ta' Qali.
In his first political rally addressing Labour supporters since the pandemic, Abela took his speech as an opportunity to shed light on several initiatives, changes and plans the Labour Party has worked on and will continue working on.
"In the last few days, we have reflected on what has been said by a number of people working within different sectors in order to reach new levels for Malta. The Labour Party has a lot to give to our country and is doing this by presenting an ambitious plan which seeks to involve everyone," Abela said.
"We have gone through a lot in the past few months, but we were a team of competent people who moved the country forward. There may have been some who were discouraged and short-sighted during this difficult period, but I have a team of people who rose to the occasion and continued with their work," Abela said.
Instead of taking the easy way out, the party showed determination and worked harder than ever before in order to move Malta forward, he added.
Speaking about the Nationalist Party, Abela said that it was incapable of renewing itself, let alone the country.
"The difference between the two parties is that we are determined to improve and offer solutions for a better Malta, whilst the Nationalist Party constantly chooses to adopt a negative and partisan approach."
The political way of thinking that gripped the PN has remained the same, he said. "The PN is focused on tarnishing the name of our country in order to seize power in its hands. For the Nationalist Party, politics simply means someone who is capable of shouting and criticising the most. The Nationalist Party takes pleasure from the country's misfortune, whilst the Labour Party rejoices with people's wealth."
"Don't let them hinder you. This legislature doesn't have more than nine months to it, but it has not yet ended. We have projects that are coming to a finish and an upcoming budget which will reflect the vision we want for this country. This is a tool that will lead to a better quality of life for all," Abela said.
He added that the next budget will not see tax increases but will seek to increase pensions. It will also be another budget that leaves more money in people's pockets.
Nonetheless, Abela highlighted that "money is not everything and our lives are not measured only by material wealth."
He remarked that the Labour Party has not stopped working and coming up with ideas - ideas that even challenge the government's thinking as "we want a living party which remains an instrument for change."
Abela thanked PL President Ramona Attard and PL Deputy Leader Daniel Micallef for their work in the launch of 100 ideas which build on the past but look to the future.

"I am a convinced European democratic socialist who believes in strengthening those who have fallen back in society and those who might need support. I also believe in strengthening businesses who should have a level playing field. Above all, I believe in Malta's workers as they are the basis of our country," Abela said.

He highlighted that the aim of the party is not to give rise to envy or conflict between one social class or another but to give people the opportunity to live a better quality of life.

Although Abela admitted that the Labour government has not always reached the needs and aspirations of the people, he assured the public that the party will continue listening and working on reaching those aspirations for everyone.

Speaking about the reforms implemented by the Labour government in recent months, Abela remarked that despite the criticism, the reforms that this government changed were beneficial for Malta.

"The great strides we have made are recognized by all, including EU Commission President Ursula von der Leyen who just last week praised Malta's judicial reforms. Nonetheless, we still have a long way to go in the field of reforms in order to renew this country," Abela said.

"We need to see a discussion on a serious electoral reform as current electoral laws need to better reflect the society we are living in," he said.

Abela also revealed that studies on an underground metro system will go for public consultation in the near future, insisting that a proper discussion needs to take place on mass transport.


Mon, 20 Sep 2021 20:04:00 +0100

'I cannot bring about change on my own, but together we can change everything' – Grech
Opposition Leader Bernard Grech used his speech at the Floriana Granaries on Tuesday evening as a rallying cry, urging people to join the PN in its fight for change.
On the eve of Independence Day, Grech spoke about his beliefs, how everything should revolve around people, not money, figures or slogans.
"We will take decisions that make a difference in your lives, your work, homes, hobbies, wishes and plans."
"I am convinced about my mission. I am also convinced that on my own I cannot bring about change. Together with you, we can change everything. We have improved our work, have new energy, all the while we are building on the loyalty of those who gave their hearts to the party," he said.
He mentioned those who lead this "more dynamic" party, and praised the MPs and candidates. "The Labour Party has Rosianne Cutajar, who fears facing the EU institutions. We, in Europe, have Roberta Metsola, who represents the ambitions of the Maltese and Gozitans, who always makes us proud."
"You trusted me with a party who some people saw as antique and tired. Today, look around and see the new energy, the creativity, the number of new faces here among the you."
"Join me, so that together we can lead the country for the coming five years."
Grech spoke about the need to face the challenges that lie ahead with courage and determination.
He took aim at the government for 'taking over PBS', and turning it into 'Super 2'. "But the people know what is true. They know that we are grey listed because of the government's actions. They know that to get on the white list, we need to catch the big fish. Because they (the Labour Party) fear the big fish, they need to go after the small fish like the hair dressers, butchers, and you who go to deposit money in the bank. I do not fear the big fish, we do not fear the big fish."
He said Robert Abela is protecting Kornad Mizzi and Joseph Muscat. "He has not found the courage to denounce Joseph Muscat. Instead of choosing Malta, the people, he chose his own interests, and the interests of those who today control him."
Turning to the environment, Grech said that the PN will start a green revolution for the country.
"We issued proposals on open spaces, for tree mapping around the country, proposals in favour of agricultural land and proposals that will ensure that Malta's countryside will not be taken by developers like Sadeen to build on ODZ land without clear national interest approved by Parliament."
"We cannot continue to complain about unbridled development without realising that it is time to fight back. We need to bring the green and natural environment back into our villages and towns." He said that he wants to ensure that the Maltese coast belongs to the Maltese, and not someone who bought a yacht who wants to berth it close to his home.
On healthcare, he said he wants to explore agreements and arrangements with hospitals in France and Germany aside from the UK, thereby expanding Malta's horizons in terms of care.
Grech mentioned a number of the party's proposals, such as more free medicines for people with cancer, the creation of a research centre, the construction of helipads at the Malta and Gozo hospitals and common health procedures taking place in Gozo under a PN government, like chemotherapy.

He said that the PN will work to give the Gozo General Hospital back to the Gozitan people. "We will also build a new 400 bed hospital." He also spoke about the PN's proposals to support businesses by raising the VAT exempt ceiling.

Grech took aim at the PL. He said the PL is copying PN proposals as it is "not creative. They call us negative, yet they are the ones who find a problem in every solution we propose. They are so negative that they don't even have faith that what we are promising can be implemented. If they have already given up, then the time has come to step aside and let us implement our plans."

He spoke about the Daphne Caruana Galizia public inquiry, saying that Cabinet is collectively responsible for what happened to the slain journalist. "Robert Abela pretends to accept the inquiry, but fears taking steps. He took no steps on Carmelo Abela, Rosianne Cutajar and Edward Zammit Lewis. He is a weak Prime Minister, allowing the climate of impunity to perpetuate."

"We are on the edge of a general election. From the opposition, we are showing you that we can lead. So much so that the government confirms that it needs the PN to decide. On Covid-19, Fearne changed the regulations regarding the hotel quarantine for Maltese residents after we demanded change. This week the PN announced proposals for the agricultural sector, and the government finally reacted on this point. It had to be the PN to start change. Minister Miriam Dalli finally said that we need a second interconnector, something we have said for years. They finally woke up. The PN brought about change."

"Challenges are coming for which you will need a strong captain, who has no other loyalty except to you."

Grech also challenged Abela to a debate, saying that he can choose the time, place and moderator.


Mon, 20 Sep 2021 19:08:00 +0100

Malta becomes first EU member state to fly to Libya as flights restart


Flights between Malta and Libya restarted on Monday following an agreement signed by the Transport Ministries of the two countries.

Flights between Malta and Libya had been on hold since unrest erupted in the North African country in 2014. Air Malta flew to Libya for the first time since then last July as part of talks and assessments for more regular flights to be restarted.

This flight placed Malta as the first member state of the European Union to fly back to Libya.

Economy and Industry Minister Silvio Schembri visited Libya on what was the first flight between the two countries. This flight paved the way for the restart of flights between Malta and Libya as well as the strengthening of trade ties between the two countries, the ministry said.

During a press conference addressed at the Malta International Airport on the arrival of this flight, which left Malta at around 11am, Minister Schembri highlighted the commitment between the two parties to collaborate as this will benefit both sides.

"There is huge potential for Libya. This country deserves to be properly led by Libyan people and Prime Minister Robert Abela as well as the Maltese government have always served as an important platform for Malta to be a voice for the thoughts and wishes of Libyans in in both International and European fora," Schemrbi said.

He noted that although this flight is important, there is a lot of work to be done.

"We consider the Libyan people not only as our neighbours but also as our brethren. I believe we can help Libya flourish again," Schembri said.

Meanwhile, Libyan Transport Minister Mohammed Salem Al Shahoubi remarked that the intention is to resume a weekly flight between the two countries.

"We hope for a successful future for this airline, which will contribute to the economic growth and service of the Libyan people," he said.

Minister Schembri met with Libyan Economy Minister Mohammed Haweg in Libya where the two sides discussed various sectors, the ways in which the two countries can collaborate as well as business opportunities for both countries.


Mon, 20 Sep 2021 17:59:00 +0100

Eviction threat: Government could buy properties, rent them back out to band clubs


The government could step in to buy properties that are being leased to band clubs that are facing the threat of eviction, it was announced on Monday.

Parliamentary Secretary Alex Muscat and Culture Minister Jose Herrera said the properties would then be leased back to the band clubs at subsidised prices.

The scheme is aimed to help band clubs that are facing eviction as a result of recent court judgments that slammed old rent laws.

Funds from the National Development and Social Fund (NDSF) will be used to carry out the purchases.

A number of band clubs were placed at risk of eviction after a 2018 court judgment that ordered the De Paule band club in Paola to vacate its current rented premises.

PS Muscat said experts employed by the NDSF will carry out discussions with the property owners.

Once government becomes the owner, it will be renting out the premises to band clubs at a subsidised price.

Minister Herrera said the scheme would give peace of mind to the band clubs while also respecting the owners, who have a right to a fair price for their property.

The NSDF operates with funds made from Malta's citizenship scheme.


Mon, 20 Sep 2021 17:40:00 +0100

Biden easing foreign travel restrictions, requiring vaccines


President Joe Biden will ease foreign travel restrictions into the U.S. beginning in November and allow foreign nationals into the country if they have proof of vaccination and a negative COVID-19 test, the White House said Monday.

The new rules replace a hodgepodge of restrictions that had barred non-citizens who had been in certain countries in the prior 14 days from entering the U.S. It would allow families and others who have been separated by the travel restrictions for 18 months to plan for long-awaited reunifications.

White House COVID-19 coordinator Jeff Zients announced the new policies, which will require all foreign travelers flying to the U.S. to demonstrate proof of vaccination before boarding, as well as proof of a negative COVID-19 test taken within three days of flight. Biden will also tighten testing rules for unvaccinated American citizens, who will need to be tested within a day before returning to the U.S., as well as after they arrive home.

Fully vaccinated passengers will not be required to quarantine, Zients said.

The new policy will replace the patchwork of travel bans first instituted by President Donald Trump last year and tightened by Biden earlier this year that restrict travel by non-citizens who have in the prior 14 days been in the United Kingdom, European Union, China, India, Iran, Republic of Ireland, Brazil and South Africa.

Those travel bans had become the source of growing geopolitical frustration, particularly among allies in the UK and EU where virus cases are far lower than the U.S., and the easing comes ahead of Biden meeting with some European leaders on the margins of the United Nations General Assembly this week.

"This is based on individuals rather than a country based approach, so it's a stronger system," Zients said.

The EU and UK had previously moved to allow vaccinated U.S. travelers into their territories without quarantines, in an effort to boost business and tourism travel. But the EU recommended last month that some travel restrictions be reimposed on U.S. travelers to the bloc because of the rampant spread of the delta variant of the coronavirus in America.

The Centers for Disease Control and Prevention will also require airlines to collect contact information from international travelers to facilitate contact tracing, Zients said.

It was not immediately clear which vaccines would be acceptable under the U.S.-system and whether those unapproved in the U.S. could be used. Zients said that decision would be up to the CDC.

The new policy will take effect in "early November," Zients said, to allow airlines and travel partners time to prepare to implement the new protocols.


Mon, 20 Sep 2021 17:23:00 +0100

'You will not break ex-prisoner Anthony Borg' – Peppi Azzopardi


Journalist and prison critic Peppi Azzopardi has spoken out against the article published by talk.mt Malta about ex-prisoner Anthony Borg, saying that "instead of defending the vulnerable, talk.mt chooses to defend those who are abusing the system and its prisoners."

People who are abusing the prison system know they are lying and choose to keep on lying, Azzopardi said.

On Sunday an article was published by talk.mt Malta which stated that Borg is wanted by the police for failing to sign his bail book. A screenshot was also uploaded showing Anthony Borg as a 'Wanted Person.' Talk.mt is formerly known as iNews and it is owned by the General Workers' Union.

Borg is a former prisoner who in a Times of Malta interview went public with claims of mistreatment at Corradino Correctional Facility (CCF). He revealed the harshness and cruelty of the prison. Borg was in the same prison cell with Colin Galea, the prison inmate who died on 17 August days after a suicide attempt.

In a Facebook post on Monday, Azzopardi gave an account, including details of a private telephone conversation he had with Borg, on what happened following the publication of the article.

He recalled how Borg insisted with Azzopardi that the article published by the website( was false, saying that he has always gone to the police and signed his bail book.

Azzopardi also wrote that he got in touch with talk.mt on the matter, saying that what they wrote is a lie.

"Eventually, iNews (talk.mt) understood their mistake and decided to remove the story completely. It turns out that the screenshot was a lack of communication between the police and the photo was leaked by someone who wants to break Toni down.

I thought the matter had ended there but on Monday, iNews decided to publish the article and screenshot once again. iNews said, and I quote: "Meanwhile, this site is informed that Anthony Borg was really wanted by the Police after he failed to sign at the police station several times," Azzopardi said.

He added that "this is the kind of hatred present against Toni. Following Borg's revelation, they cannot deny the atrocities present in prison. They are simply trying to break him. They tried to break him in prison, and they are trying to break him outside of prison because he exposed them. This is a complete conspiracy."

"Toni is the same person who was placed in a cell alone for three months after he had something to say to the Prison Director (Alexander Dalli), being allowed to leave his cell for just an hour. Toni is the only person who revealed how Colin was treated in prison before he committed suicide.

Since then, no one denied what Toni said but there is an entire conspiracy to try and break him," Azzopardi said.

Meanwhile, lawyer David Gatt reacted to the article on Anthony Borg's behalf, saying that it was published "without any truthful basis."

"I inform you that after checks have been made with the prosecuting officers, Borg has signed his bail book. According to the Press Law, I ask you to correct this error by publishing a right of reply as written here," Gatt said.

Photo by Times of Malta.


Mon, 20 Sep 2021 14:21:00 +0100

Pfizer says COVID-19 vaccine works in kids ages 5 to 11


Pfizer said Monday its COVID-19 vaccine works for children ages 5 to 11 and that it will seek U.S. authorization for this age group soon -- a key step toward beginning vaccinations for youngsters.

The vaccine made by Pfizer and its German partner BioNTech already is available for anyone 12 and older. But with kids now back in school and the extra-contagious delta variant causing a huge jump in pediatric infections, many parents are anxiously awaiting vaccinations for their younger children.

For elementary school-aged kids, Pfizer tested a much lower dose -- a third of the amount that's in each shot given now. Yet after their second dose, children ages 5 to 11 developed coronavirus-fighting antibody levels just as strong as teenagers and young adults, Dr. Bill Gruber, a Pfizer senior vice president, told The Associated Press.

The kid dosage also proved safe, with similar or fewer temporary side effects -- such as sore arms, fever or achiness -- that teens experience, he said.

"I think we really hit the sweet spot," said Gruber, who's also a pediatrician.

Gruber said the companies aim to apply to the Food and Drug Administration by the end of the month for emergency use in this age group, followed shortly afterward with applications to European and British regulators.

Earlier this month, FDA chief Dr. Peter Marks told the AP that once Pfizer turns over its study results, his agency would evaluate the data "hopefully in a matter of weeks" to decide if the shots are safe and effective enough for younger kids.

Many Western countries so far have vaccinated no younger than age 12, awaiting evidence of what's the right dose and that it works safely in smaller tots. But Cuba last week began immunizing children as young as 2 with its homegrown vaccines and Chinese regulators have cleared two of its brands down to age 3.

While kids are at lower risk of severe illness or death than older people, more than 5 million children in the U.S. have tested positive for COVID-19 since the pandemic began and at least 460 have died, according to the American Academy of Pediatrics. Cases in children have risen dramatically as the delta variant swept through the country.

"I feel a great sense of urgency" in making the vaccine available to children under 12, Gruber said. "There's pent-up demand for parents to be able to have their children returned to a normal life."

In New Jersey, 10-year-old Maya Huber asked why she couldn't get vaccinated like her parents and both teen brothers have. Her mother, Dr. Nisha Gandhi, a critical care physician at Englewood Hospital, enrolled Maya in the Pfizer study at Rutgers University. But the family hasn't eased up on their masking and other virus precautions until they learn if Maya received the real vaccine or a dummy shot.

Once she knows she's protected, Maya's first goal: "a huge sleepover with all my friends."

Maya said it was exciting to be part of the study even though she was "super scared" about getting jabbed. But "after you get it, at least you feel like happy that you did it and relieved that it didn't hurt," she told the AP.

Pfizer said it studied the lower dose in 2,268 kindergartners and elementary school-aged kids. The FDA required what is called an immune "bridging" study: evidence that the younger children developed antibody levels already proven to be protective in teens and adults. That's what Pfizer reported Monday in a press release, not a scientific publication. The study still is ongoing, and there haven't yet been enough COVID-19 cases to compare rates between the vaccinated and those given a placebo — something that might offer additional evidence.

The study isn't large enough to detect any extremely rare side effects, such as the heart inflammation that sometimes occurs after the second dose, mostly in young men. The FDA's Marks said the pediatric studies should be large enough to rule out any higher risk to young children. Pfizer's Gruber said once the vaccine is authorized for younger children, they'll be carefully monitored for rare risks just like everyone else.

A second U.S. vaccine maker, Moderna, also is studying its shots in elementary school-aged children. Pfizer and Moderna are studying even younger tots as well, down to 6-month-olds. Results are expected later in the year.


Mon, 20 Sep 2021 14:02:00 +0100

PN launches proposals to help cancer patients


The Nationalist Party has made a number of proposals to help cancer patients, including ones that will improve access to medicine.

"Better quality of life as well as better care are at the heart of a Nationalist Party led government as new proposals related to cancer treatment with a holistic approach proposed," PN spokesperson Stephen Spiteri said.

"Charity is a noble gesture, but unfortunately patients seeking cancer treatment are relying heavily on NGOs in order to have access to cancer treatment. This leads to the disheartening of patients and their families," Spiteri added.

"As the Nationalist Party we recognise this problem and we desperately need to tackle it."

The PN cluster responsible for quality of life and care has spoken to stakeholders such as cancer patients, their families and healthcare professionals to create a set of proposals aimed at providing adequate care for patients and their families, he said.

"The oncology centre at Mater Dei Hospital is not keeping up with the demand. This is a system which has failed and the government has to take responsibility for the situation. NGOs should not become an extension of the oncology centre," Spiteri added.

The proposals brought forward by the PN are split into four objectives. The first being the biological care of cancer patients, the second set of objectives aims at improving the prevention of cancer, the third set looks to provide a holistic approach to cancer treatment, while the last set is aimed at improving the research facilities in Malta. Together with Spiteri, PN spokesperson Claudette Buttigieg and candidate Ian Vassalo announced the proposals.

The first measure is to create a fund in order to finance the necessary medicines for free for cancer patients. This includes both first and second line medicines which are approved by the European Medicines agency.

This objective also proposes that drugs on the government formulary be updated in order to offer medicines without having the patient rely on third party entities to provide them.

The PN also proposes that a Drug Fund would be set up in order to provide the supportive medicines in cancer treatment automatically. This would also improve on the bureaucracy levels in this regard, Spiteri said.

When it comes to screening, Spiteri said that "the Nationalist Party aims to build on the success it had when it proposed the screening programmes." This includes widening the screening programme in order to screen the whole population at various stages, improve the genetic screening in order to start treatment were necessary at an early stage.

In the third set of proposals, the main aim is to create a holistic approach to cancer treatment by introducing a 24 hour walk in clinic as well as an electronic health system where patients can be monitored at the comfort of their own home

PN also proposes that the use of ambulatory chemotherapy would be used in order to give patients the treatment they need at the comfort of their own home. "This would improve the chances of a cancer patient being less exposed to other infections found in hospital," Vassalo said.

The fourth and final cohort of proposals looks to implement proper investment in the life sciences sector in Malta.

Buttigieg said that creating a clinical research unit would give the opportunity for new drug trials to commence in Malta. "This would give new hope to people being treated for cancer and it would help provide better solutions in cancer care."

"These proposals, together with investment in innovation with regards to the oncology department and bilateral agreements with other countries, are the key for patients to be offered quality care," Buttigieg said.


Mon, 20 Sep 2021 13:12:00 +0100

Cultural heritage watchdog objects to proposed solar farm near Mgarr temples


The cultural heritage watchdog has objected to a proposed solar farm in Mgarr, saying the development could damage archaeological remains in the area.

The application in question is for the development of a solar farm on an area of 38 tumoli of arable land – the size of six football pitches – and which has unique features of the Maltese rural landscape, such as rubble walls, carob trees, garigue, protected flora and fauna, bee colonies and archaeological remains dating back to the Romans.

It lies close to the Ta' Hagrat archaeological site. The application has already drawn concern from Heritage Malta and Moviment Graffitti, and hundreds of objections have been filed.

The latest objection was filed by the Superintendence for Cultural Heritage on Monday.

It noted that the proposed development covers an extensive site on ODZ land.

The area is of considerable archaeological sensitivity as evidenced by its inclusion within Mgarr Area of Archaeological Importance, which includes the World Heritage Sites of Ta' Ħaġrat and Skorba.

"The Superintendence, along with the Cultural Heritage Advisory Committee (CHAC) notes with concern that the proposal will inevitably negatively affect the perception of the cultural landscape. The Superintendence further notes that the proposed location is incompatible with the cultural and scenic value of the area. Notwithstanding the proposal's evident negative visual impact, any ground disturbance in this area, such as for the reservoir and the extensive trenching required for connectivity between the solar panels and the substation and from substation to the national grid may also impact directly on archaeological remains. Such interventions are not considered acceptable within an area specifically scheduled to safeguard archaeological remains and their context," the SHC said.

"In view of the site's location within Mgarr AAI, which forms parts of the buffer zones established to protect the World Heritage Sites of Ta' Ħaġrat and Skorba, this development application has also been referred to Heritage Malta as the state agency responsible at law for the management of the above-mentioned sites. Heritage Malta noted that the proposed development may increase the risk of flooding at Ta' Ħaġrat due increased rainwater run off resulting from the extensive soil-cover associated with the proposed greenhouses."

The Superintendence said it considers that the intensification of development as proposed, Outside Development Zone, and within an archaeologically sensitive area is objectionable in principle. It objected to the application.


Mon, 20 Sep 2021 13:03:00 +0100

School receptionist denied bail on charges of sexually harassing security staff


A school receptionist was denied bail by a magistrate after facing charges of sexually harassing three members of security staff at the school complex.

Joseph Borg, 61, of Marsascala, pleaded not guilty to charges of committing a non-consensual sexual act, harassment and requesting sexual favours from the three individuals.

Prosecuting officer Inspector Joseph Busuttil told the court that the accused asked for sexual favours from the staff members, two women and a man.

The prosecution objected to a request for bail made by the man's lawyer, Robert Piscopo, arguing that five witnesses are still to testify. Four of them work with the accused.

The defence pointed out that the accused had just been discharged from hospital. After the man's arrest he had complained of chest pain and was taken to hospital, from where he was discharged with a clean bill of health, the inspector said.

Magistrate Ian Farrugia denied bail.


Mon, 20 Sep 2021 12:43:00 +0100

Covid-19: 22 new cases and two elderly patients die
Twenty-two new Covid-19 cases were recorded in Malta as two elderly patients died, health authorities said.
The latest two victims are a woman aged 90 and a man aged 99. This takes the total number of deaths to 455.
The authorities said that 22 patients are in hospital, three of whom in intensive care.
The total number of Covid cases is now 36,994, with 35,567 patients who recovered.
There are now 574 active cases.
Till yesterday, 811,753 vaccination doses had been administered.

Mon, 20 Sep 2021 12:34:00 +0100

Number of persons with low level of education in 2020 stood at 203,151


In 2020, the number of persons with a low level of education stood at 203,151 accounting for nearly half of those aged 15 and over, the National Statistics Office (NSO) said.

A low level of education comprises of "persons with no schooling, primary education, special schools for disabled, and persons who attained a secondary level education and have less than 2 O levels or equivalent qualifications."

The NSO has published revised educational attainment statistics from the Labour Force Survey (LFS) for 2010 - 2020. The revision is a result of the realignment of the International Standard Classification of Education (ISCED) with the Malta Qualifications Framework (MQF).

"This revision was necessary to ensure better compliance with European Regulations governing education statistics and improve comparability of results at the European level. NSO reviewed the current educational system and the entry requirements at different levels. This exercise mainly focussed on state-run post-secondary institutions since this level of education is experiencing an increase in the range of courses offered to prospective applicants."

"The outcome of this exercise led to a reclassification by which attainment at ISCED levels 2 and 3 is determined."

"LFS estimates indicated that, in 2020, the number of persons with a low level of education stood at 203,151, accounting for nearly half of those aged 15 and over. Those having a medium level of education amounted to 129,363 (29.5%) while persons with a high level of education totalled 105,750 (24.1%)."

Medium levels of education refers to persons with a secondary level education and having 2 O levels or equivalent qualifications or more, persons with a post-secondary level attainment who have at least obtained 1 Intermediate or A level or equivalent qualification. High levels of education refer to persons with a tertiary level education and with qualifications ranging from University diploma to doctorate level, the NSO said.

"The share of persons aged 15 to 64 having a low level of education decreased from 59.6% in 2010 to 37% in 2020. Conversely, the share of persons with a medium or high level of education increased by 8.7 and 14 percentage points respectively in the last eleven years," the NSO said.

On average, over the past eleven years, the number of employed persons having a low level of education remained relatively stable around 80,317 persons. On the contrary, the share of those employed with a medium level of education almost doubled within a decade. Similarly, employed persons attaining a high level of education increased from 34,234 in 2010 to 88,920 in 2020.

Across the years, persons with a higher level of education were more likely to be in employment when compared to those with low attainment levels. In 2020, out of every 100 persons aged 20 to 64 years with a high level of education, 89 were employed. Similarly, the employment rate for persons with a medium level of education was 81.9%. Persons with a low level of education had the lowest employment rate (64.1%).

"Further to this revision, the rate of early leavers from education and training (ELET rate) was updated to 12.6%, in 2020, a drop of 8.8 percentage points from 2010 levels. Among males the rate dropped from 28.3% in 2010 to 14.7% in 2020 while that for females declined by 3.8 percentage points over the last eleven years reaching 10.2 per cent in 2020. Although Malta's levels for the ELET indicator declined significantly over the years, in 2020, the rate was 2.6 percentage points higher than the EU 28 2020 target of 10%. At the same time, data for 2020 showed that the percentage of persons aged 20 to 24 years achieving at least an upper secondary education was 85.1%. This indicator was higher for females (88%) when compared to males (82.6%).


Mon, 20 Sep 2021 12:27:00 +0100

PL and PN to hold political events tonight


The two major political parties will tonight hold political activities, as both are in full preparation for the general election which will be held in the coming months.

Prime Minister Robert Abela will be addressing a Labour Party mass event at the MFCC at Ta' Qali, starting at 6pm.

He will be addressing a rally for Labour supporters which brings to an end a four-day conference the party has held over the weekend.

Opposition Leader Bernard Grech will be addressing Nationalist supporters at the Granaries in Floriana in his first political mass event since becoming leader of the Nationalist Party.

The PN's event will start at 6.30pm.

Both mass events will follow Covid-19 protocols, therefore limiting the amount of people that can attend.

At this stage, it remains unclear when the election will be held but the latest the general election can be held is September 2022.

The Malta Independent will be covering both events.


Mon, 20 Sep 2021 12:14:00 +0100

Shooting at Russian university leaves 8 dead, 24 hurt


A gunman opened fire at a university in Russia on Monday morning, leaving eight people dead and 24 hurt, officials said.

The gunman was detained after the shooting at Perm State University, according to the Interior Ministry. There was no immediate information on his identity or possible motive.

Students and staff at the university locked themselves in rooms, and the school urged those who could leave the campus to do so. The state Tass news agency cited an unnamed source in the law enforcement as saying that some students jumped out of windows of a building during the attack.

The university, which has 12,000 students enrolled, said about 3,000 people were on the campus at the time of the shooting. The school is in the city of Perm, which is about 1,100 kilometers (700 miles) east of Moscow with a population of about 1 million.

The perpetrator used a gun designed to fire non-lethal rubber or plastic projectiles, the university press service said. Such weapons can be modified to fire other ammunition. State news agency RIA-Novosti cited local officials as saying the gunman owned the weapon legally.

The Health Ministry said 24 people were hurt — 19 from bullet wounds. It was not clear how the others were injured.

In May, a gunman opened fire at a school in the city of Kazan, killing seven students and two teachers.


Mon, 20 Sep 2021 11:46:00 +0100

Fenech wants testimony of Joseph Muscat, Keith Schembri in his murder trial


Yorgen Fenech's defence team will be summoning former prime minister Joseph Muscat and his chief of staff Keith Schembri as witnesses in his murder trial, MaltaToday reports.

Fenech is pleading not guilty to being a mastermind in the murder of Daphne Caruana Galizia. The journalist was killed in a car bomb four years ago.

The report says Muscat will be summoned to testify about the pardon given to the self-confessed middleman in the murder, Melvin Theuma, who was pardoned in return for information about the murder in November 2019.

Schembri's name was mentioned by Fenech to the police after his request for a pardon was rejected by Cabinet. Fenech implicated the former OPM chief of staff as the mastermind behind a letter implicating former economy minister Chris Cardona in the Caruana Galizia murder.

Cardona, who was later mentioned in court as the mastermind behind an aborted attempt to kill Caruana Galizia in 2015, is also expected to be summoned to the witness stand by the defence, the report says. Cardona has denied the claims.

Former deputy police commissioner Silvio Valletta is also expected to be summoned to testify.

The bill of indictment against Fenech was filed last month, bringing an end to the compilation of evidence. However, the compilation can reopen if new evidence emerges.


Mon, 20 Sep 2021 10:10:00 +0100

TMID Editorial - Selling passports: The impasse – and reputational damage – remains


Last Thursday, European Commission President Ursula von der Leyen was in Malta to give the green light for the country's Covid-19 resilience and recovery package.

The package is one which was lauded by von der Leyen and the Commission, with the government using her remarks as a solid tick in their favour – so much so that a One journalist used one of her quotes when interviewing PN leader Bernard Grech on Sunday.

However, a remark which the government will no doubt be less pleased at was von der Leyen's statement on Malta's passport selling scheme.

"In our bilateral we have been discussing the subject of the golden passports and that it is of utmost importance to stop that procedure because we should not forget that the golden passports potentially enable the person to have access to 27 member states in the European Union," von der Leyen said when answering questions from the press.

There was no reaction from the Prime Minister nor the government as a whole forthcoming until Parliamentary Secretary Alex Muscat, under whose remit the scheme falls, was questioned about it by the press – where he promptly snubbed any suggestion of interference by von der Leyen.

"We believe that issues of citizenship fall under the national competence. Every country can decide for itself on these issues," Muscat said.

Malta ventured into the passport-selling business soon after Labour's 2013 election victory, and controversy followed close behind.

Malta, we were told, would be different, and the scheme would come equipped with the most rigorous due diligence process possible. Time showed otherwise and the IIP had many failures, as highlighted by the recent Passport Papers investigation.

Many applicants were barely spending a day in Malta, and most of these millionaires were renting out dingy places in areas like Gzira and St Paul's Bay, rather than buying expensive villas. The required 'genuine link' for some applicants went only as far as proving that they bought pastizzi from Serkin or a Red Bull from Havana.

The IIP has since been scrapped and replaced by a new one run by a state agency. The government says the new scheme it has put in place has "addressed all concerns" pertaining to the Henley-run scheme.

And yet, the European Commission remains less than enthused at the idea of the scheme being re-run, and has opened infringement proceedings against Malta as a result.

Malta has argued – as Muscat did – that citizenship is a matter of national competence. That may be the case, but when the Maltese passport is also an EU passport, then one is granting access to 27 countries rather than just one.

More recently, and especially in reaction to the Passport Papers investigation, the government has argued that the scheme was essential in keeping the Maltese economy afloat and providing aid to workers during the pandemic – strong words considering the government has always denied suggestions that the Maltese economy would do just fine without the passport scheme.

Now, NSDF funds garnered from the scheme are being used to fund a number of social and environmental projects. Without delving into the merits of these projects, one must question whether these projects are being used to justify the continued emphasis on keeping the passport scheme.

We have always stood against the concept of selling citizenship for money, and that will not change. The very principle of citizenship should be tied to the principles and identity of the nation – not to how loose someone's purse-strings are.

As there is seemingly an impasse between the government and Europe, the matter may go all the way to the highest European courts.

It's high time the government realises that the reputational damage that is, and will continue to be, suffered from this scheme is just not worth it.


Mon, 20 Sep 2021 09:44:00 +0100

pharmacy opening hours consultation lacking - Chamber of Commerce; other organisations consulted


The Malta Chamber of Commerce, Enterprise and Industry said that it has not been approached on the the opening hours of pharmacies on Sunday.

It was reacting to reports in the press that health authorities are in advanced discussions with stakeholders for pharmacies to introduce a roster system to also start opening on Sunday afternoons.

The last correspondence that the chamber has had on the matter dates back to February 2020 and consists of a proposal made jointly with other stakeholders that provides for the enforcement of a roster for pharmacies to open on Sundays and public holidays, and for the service to be extended to a full day.

No further communication on this proposal has been received since, the chamber said in a statement.

The Chamber, on behalf of its Lead Professional Pharmacists Business Section, urged the relevant authorities to consult with the relevant stakeholders before proceeding with implementation to ensure that the public is better served and that there is a level playing field between all pharmacies.

The Chamber of SME's, along with the Chamber of Pharmacies, have been in discussions with Government to enhance the Pharmacy Service even on Sundays, a Chamber of SME's statement read. "This is no easy task. There are large logistical and other costs involved, and any enhancement of the service must take this into account. There is also a human cost in the equation to consider. It is a known fact that the pharmacy service in Malta is one of the best, however, times change, and necessary tweaking is essential in order to improve an already excellent service. The Chamber of SME's will continue consulting its members and work towards an equitable solution that will ensure a fair compromise."


Mon, 20 Sep 2021 08:52:00 +0100

Local Councils' Association proposes an end to door-to-door waste collection


The Local Councils' Association (LCA) has proposed a gradual shift from door-to-door waste collection to point-based waste collection, the association's president Mario Fava told The Malta Independent.

This point-based collection system would see a network of public waste containers – above and/or below ground − that would be grouped according to the national waste separation strategy.

Fava noted that the current waste collection system − which renders footpaths "inaccessible, dangerous, unpleasant, and unhygienic" − is hindering the councils' efforts to promote walking as a sustainable mode of mobility.

This newfound waste collection system would be administered by regional councils instead of local councils and thus enable the reduction of traffic-congested local roads and dangerous emissions.

The choice of containers would be those that integrate best into the urban environment and which are simple to use by people of all abilities, at a height that does not restrict visibility.

The LCA's proposal includes the use of smart technology for volume monitoring, which would provide the administrator and all stakeholders with valuable data to facilitate planning, educational campaigns and better enforcement

Malta's annual municipal waste generated per capita is currently higher than most EU countries, at an average of 640kg.

Landfilling is still the predominant waste treatment option and our recycling rate is the lowest amongst EU Member States.

As part of the government's 2021-2030 'Long Term Waste Management Plan', the Environment Ministry and the Local Council Association have had several meetings to discuss the implementation of Malta's transition towards a resource efficient and circular economy, reduces pressure on Malta's waste logistics and infrastructure, as well as reduces the country's dependence on either exporting waste or landfilling – seeing as land availability is limited.

This newsroom last week also reported how multi-storey park-and-ride car parks at the periphery of localities around Malta is one of several sustainable urban projects being researched by the LCA.


Mon, 20 Sep 2021 08:48:00 +0100

Planning Authority chairperson refuses interview with The Malta Independent


The Planning Authority has refused to grant this newsroom an interview with its chairperson Martin Saliba.

This newsroom had first gotten in touch with the PA for an interview with Saliba last May, with the PA suggesting a date for some time within summer, owing to the fact that Saliba had already agreed to an interview with the Times of Malta at that time.

At the end of May – after the interview had aired – this newsroom again got in touch with the PA's spokesperson, who expressed concern at how Saliba had been portrayed in his interview with the Times of Malta and said that Saliba would accept interviews as long as the text was approved by his office prior to publication.

The spokesperson said that a date could be set for late June if that condition was agreed to.

The condition was agreed to – even if it is not standard procedure for how this newsroom conducts interviews – but no reply on an interview date was forthcoming.

Another request for an interview sent in in the middle of July subsequently remained without a reply.

Yet another request for the interview to be conducted was sent at the end of August, only for the PA's spokesperson to reply that Saliba "will not be taking interviews for the time being."

Emails sent since then asking what the reason for this decision was and for an indication on when Saliba will be available for an interview have all not been answered.

The last interview which Saliba granted to independent media houses was that interview with the Times of Malta last May, where the headline was that the country needs to accept that Malta is moving into a modern era.


Mon, 20 Sep 2021 06:51:00 +0100

'The Crown,' 'Ted Lasso,' 'Queen's Gambit' top Emmy Awards


Netflix's "The Crown" and "The Queen's Gambit" combined with Apple TV+'s "Ted Lasso" to win top series honors at the Sunday's Emmy Awards, a first for streaming services that cemented their rise to prominence in the television industry.

"I'm at a loss for words," said Peter Morgan, the creator and writer of the British royal saga "The Crown," which collected acting, writing and directing awards in addition to four acting honors.

His comment may also apply to the premium cable channels that once dominated the Emmy Awards and to the broadcast networks — including Sunday's ceremony host, CBS — that have long grown accustomed to being largely also-rans.

Netflix won a leading total of 44 awards, equaling the broadcast network record set back in 1974, by CBS.

There was a bright spot for HBO with its limited series "Mare of Easttown," the crime drama that earned four Emmys, including a lead acting award for star Kate Winslet. For broadcaster NBC, "Saturday Night Live" again came through with variety honors.

The ceremony proved disappointing as well to those scrutinizing diversity in Hollywood. The record number of nominees of color yielded only two Black winners, including RuPaul for "RuPaul's Drag Race" and Michaela Coel for "I May Destroy You."

Cedric the Entertainer proved a game host, moving from a hip-hop opening number to gags and sketches, but the relatively small crowd — a result of pandemic precautions — was fairly muted in their response to him and others' one-liners.

There was a feeling of personal loss that pervaded the night, with a number of winners recounting the loss of loved ones.

"The Crown" stars Olivia Colman and Josh O'Connor won the top drama acting honors Sunday, with Jason Sudeikis, star of the warm-hearted "Ted Lasso," and Jean Smart of the generation-gap story "Hacks," winners on the comedy side.

Colman and O'Connor were a winning fictional mother-son duo: She plays Queen Elizabeth II, with O'Connor as Prince Charles in the British royal family saga that combines gravitas and soap opera.

"I'd have put money on that not happening," Colman said of the award, calling it "a lovely end to the most extraordinary journey" with the show's cast and creators. She cut her remarks short, explaining why she was growing tearful.

"I lost my daddy during COVID, and he would have loved all of this." she said.

O'Connor gave a shoutout to Emma Corwin, who played opposite him as Princess Diana and was also a nominee Sunday, as a "force of nature."

He also offered thanks to his grandparents, including his grandmother who died a few months ago, and his grandfather, Peter O'Connor, for the "greatest gifts" of kindness and loyalty.

Sudeikis, who co-created the series that many viewers found a balm for tough pandemic times, gave a speech that evoked the chipper, upbeat character he plays in the series about a U.K. soccer team and its unlikely American coach.

"This show's about families and mentors and teammates, and I wouldn't be here without those things in my life," said Sudeikis. He also thanked his fellow castmates, saying "I'm only as good as you guys make me look."

Smart, who received a standing ovation, began her acceptance speech on a somber note: Her husband actor, Richard Gilliland, died six months ago.

"I would not be here without him" and his willingness to put her career first, said Smart. She also praised their two children as "courageous individuals in their own right."

Earlier in the evening, ebullient "Ted Lasso" castmate Hannah Waddingham, winner of the best supporting actress award for a comedy, said Sudeikis "changed my life with this, and more importantly my baby girl's."

Brett Goldstein, who won the counterpart award for supporting actor for playing a retired soccer star, said he had promised not to swear and either mimed or was muted for a few seconds, then called the show the "privilege and pleasure" of his life.

Gillian Anderson and Tobias Menzies were honored for their supporting performances on "The Crown."

Anderson, who played British political leader Margaret Thatcher, was one of numerous cast members to accept from a "Crown" gathering in London. Menzies who plays Prince Philip, didn't attend either ceremony.

Before announcing the winner in his category, presenter Kerry Washington saluted another nominee, Michael K. Williams of "Lovecraft County." Williams died Sept. 6 at age 54.

"Michael was a brilliantly talented actor and a generous human being who has left us far too soon," Washington said.

Another lost star was remembered by John Oliver of "Last Week Tonight with John Oliver."

"No one was funnier in the last 20 years than Norm Macdonald on late-night comedy," Oliver said in accepting the Emmy for best variety talk show, suggesting people spend time checking out clips of Macdonald, as he did after Macdonald died Sept. 14 at age 61.

Kate Winslet, who played the title character in "Mare of Easttown," and Ewan McGregor, who starred in the fashion biopic "Halston," were honored as top actors for a limited series.

Winslet saluted her sister nominees in "this decade that has to be about women having each other's back."

Julianne Nicholson and Evan Peters claimed best supporting acting honors for "Mare of Easttown," about crime and family dysfunction.

"The script was "true to the horror and beauty of ordinary people's lives," particularly the lives of women, said Nicholson.

Both she and Peters saluted star Winslet.

"Man, you're good at acting. But turns out you're good at caring for a whole production," Nicholson said.

Debbie Allen received the Governors Award for a long and acclaimed career as an actor, dancer, choreographer and activist

"I am trembling with gratitude and grace and trying not to cry ... it's been many years in the making, taken a lot of courage to be the only woman in the room most of the time. Courage and creative and fight and faith to believe I could keep going, and I have," she said.

The show opened with a musical number that featured host Cedric the Entertainer rapping a modified version of the Biz Markie hip-hop hit "Just a Friend" with lyrics like "TV, you got what I need." LL Cool J bounded from the audience as stars like Rita Wilson, Mandy Moore and more dropped verses celebrating the breadth of television.

Seth Rogen presented the first award, throwing some cold water on the celebratory vibe by noting that the Emmys were being held in a giant tent. "There's way too many of us in this little room," he exclaimed in what seemed to be an attempt to be funny that fell flat.

"Why is there a roof? It's more important that we have three chandeliers than make sure we don't kill Eugene Levy tonight. That is what has been decided."

Roughly 500 people attended the Emmys in downtown Los Angeles, with fashion standout Billy Porter sporting large wings attached to the sleeves of his black trouser look and Sudeikis walked the red carpet in a velvet suit of soft blue.

The producers' ultimate goal was a ceremony that is upbeat and acknowledges how much TV's importance grew during the pandemic and its lockdowns.


Mon, 20 Sep 2021 06:48:00 +0100

Premier League: Stripes drop first points of the season
Birkirkara dropped the first points of the season as they were held to a 1-1 by the ever improving Floriana side.
The Greens still fresh from their triumph in the derby against Valletta, gave another good performance earning a deserved draw against a side that has been outstanding so far this season.
Even though dropping the first points of the season and losing the top spot in the standings, the Stripes should still be staisfied with the result obtained and with their overall good performance.
The game was very balanced and mainly blocked in midfield with very few scoring opportunities, but still the fare offered was acceptable.
The first move came on 14 minutes when from a low cross from Macedo, federico Falcone's effort was well saved by the Floriana custodian.
Floriana's answer was rather immediate with a great shot from Malta international Ryan Camenzuli well saved by the Birkirkara goalkeeper Fernandes.
Five minutes before the break the Greens broke the deadlock when a caseres cross created havoc in the Birkirkara rearguard and Keqi was on yhand to hit home from close range.
The Greens almost doubled the score three minutes when a dangerous cross shot by Arias almost deceived Fernandes, who however kept his cool and managed to turn the ball to a corner.
At the start of the second half Birkirkara drew level when Macedo's cross was met by Falcone who beat Ktanov with a great drive.
The Stripes pushed for more and on the hour went close with Paul Mbong's effort well saved by Kitanov.
In the last thirty minutes of the game both sides tried their best to obtain the winner but the score remained unchanged till the end for a fair result.
Photo: Domenic Aquilina

Mon, 20 Sep 2021 06:41:00 +0100

Getting to know… Alison Bezzina: Her childhood hero was a dog cartoon character
Entertainment
What was the last book you read?
The book of Animal Ignorance by John Mitchinson and John Loyd and an incredible forward by Stephen Fry.
Who is your favourite author?
Marilyn French
What was the last film you watched?
7 Yards: The Chris Norton Story
Which film have you seen multiple times and enjoyed every time you saw it?
Dirty Dancing
Who is your favourite actor/actress?
Kate Walsh
What is your favourite TV series?
Dr. House
What is your favourite game or sport to watch and play?
Athletics (to watch.)
Netflix binging (to play).
Which team do you support?
Malta
Which song would you sing at a karaoke night?
Anything that is offered on screen after my 3rd drink.
Who is your favourite singer/band?
Dolly Parton
Curiosities
Which show/event would you like to attend/have attended?
A Dolly Parton Concert (have not attended)
What three items would you take with you on a deserted island?
Fresh water, a book, and a solar powered satellite phone
Which of the five senses would you say is your strongest?
Smell
What's the most unusual thing you've ever eaten?
Ketchup and Mayo sandwich
What is that one thing you could not go a day without?
Oxygen
6. Which fictional character do you relate to most?
Daenerys Targaryen (Game of Thrones – Mother of Dragons)
Do you check your horoscope?
No
What age would you choose if you could be one age forever?
50
What invention would you erase from history?
Factory Farming
Would you like to know the day when you will die?
No
Favourites
What's your favourite animal?
Every non-human animal is my favourite
What's your favourite type of foreign food?
Pizza
What is your favourite hobby?
Getting rough and dirty with dogs, cats and any animal that will play with me
What's your favourite season?
Spring
What's your favourite ice cream topping?
Flake
What's your favourite board game?
Articulate
What is your favourite pizza?
Funghi
What is your favourite colour?
Green
What is your favourite pasta dish?
Tarja Froga
What is your favourite cartoon show?
Tom & Jerry
Childhood
1. What did you like to do most during the summer holidays?
Cycle to Mdina (where my school was)
2. What career did you see yourself in when you were young?
Owning a stationary shop with an inhouse cafeteria
3. What is your best childhood memory?
Finding out that I was going to become a big sister
4. Did you learn how to ride a bike?
Yes
5. Who was your super hero?
Scooby-Doo
6. Which toy do you wish to have kept?
A toy cash register with fake money
7. What subject did you excel in at school?
Physics
8. What subject did you dislike the most in school?
French
9. Was there some family tradition that was never missed?
Wit-wrestling with my dad any chance I get
10. What are the best values you owe to your parents?
That treating others as equal does not mean that you treat everyone the same
Serious
What would you change about yourself if you could?
My disastrous sense of direction
What really makes you angry?
Animal cruelty and neglect
Is your glass half full or half empty?
Half full always
Are you a sore loser?
Yes, but not for long
5. What is your biggest regret?
Not pursuing science subjects after school
6. What's the first thing you look for in a partner and/or friend?
Loyalty
What is your greatest fear?
Losing financial independence
What is your life motto?
Do not sweat the small stuff
If you had a warning label, what would yours say?
Do not mistake my silence for allegiance, agreement or respect
What's one thing that can instantly make your day better?
The sight of a dog, any dog.
Hypothesis
If you won the lottery, what would be the first thing you do or buy?
Donate 80% of it to animal sanctuaries and animal charities
If you could share a meal with any 4 individuals, living or dead, who would they be?
My four grandparents (all dead)
If you could bring one person back from the dead who'd it be?
My friend Jonathan Chetcuti who passed away last year
4. If you could time travel, when and where would you go?
I would go back to my teen years and come out.
5. If you could relive one moment in your life, which would it be?
Getting my first dog.
If you could live anywhere outside Malta, where would it be?
On a super yacht just off the coast
If you could only eat one meal for the rest of your life, what would it be?
Pizza
If you could know the truth behind a secret or mystery, which would it be?
Who came first, the chicken or the egg
If you could eliminate one of the seven deadly sins, which one would it be (pride, greed, lust, envy, gluttony, wrath or sloth)?
Greed
If you had to be given a superpower, what would you choose?
The power of persuasion
Either or
Coffee or tea?
Tea
Walk or swim?
Walk
Summer or winter?
Summer
Italy or England?
Italy
Restaurant or delivery?
Delivery
Early bird or night owl?
Neither
Fish or meat?
Neither
Mobile phone or TV?
Mobile phone
Black or white?
Black
Film or TV series?
TV Series


Sun, 19 Sep 2021 09:30:00 +0100

Power of incumbency and how voters can be influenced


The more an election approaches, the more we will start hearing the term power of incumbency.

It will be mostly used by the opposition, as it highlights the advantage that any government has over its political adversaries simply because it has the country's reins in its hands.

It was used by the Labour Party when the Nationalists were in government. It was one of Alfred Sant's favourite phrases. It was then used in 2017, and will be used again this time, by the Nationalists because the PL is in power.

Over successive elections, there were calls for better guidelines, and even stronger regulations, as to what governments can do between the time an election is called and the day we vote. They usually come from the opposition, those close to it, and others who want elections to be fair.

There will probably be calls for such changes this time too.

But these guidelines and regulations never come to be.

Governments, whichever party is at Castille, have so much to lose if the power of incumbency is limited.

And so the rules are never changed.

What is it?

Anyone who is in a position of power has the possibility, and often uses it, to gain advantage over his or her adversaries.

It does not only happen in politics, where a country's future is at stake.

It is resorted to in all spheres of life where there is a competition for a headship. People who already hold that position practise it for their own benefit – to keep their place and to ward off anyone who attempts to fight for that same position.

It happens in enterprises where chairmen are elected by shareholders. It also takes place in associations where elections are held every number of years to re-elect a committee. There are also football clubs, such as the mighty Real Madrid and Barcelona, who hold elections to appoint their president.

It happens, most of all, in politics, where the ruling party uses its position of power to win votes. It is an advantage that is not thrown away.

It is not a situation that solely pertains to Malta. Just one statistic may suffice – in the United States, 80 per cent of incumbents win re-election to the House of Representatives. This has been happening for more than 50 years; sometimes the percentage climbed to more than 90 in these last five decades.

Caretaker

Technically speaking, when an election is called, the government should take on the role of "caretaker". This means that, until an election is held and a winner is declared, the "government" carries on the day-to-day administration of the county, but should not use its role for its own benefit or, to be more precise, for the benefit of the party in power.

But it has happened many times that, before an election, the government – or people who represent it – takes decisions which can influence voters. This is not solely limited to the official election campaign, but often starts in the weeks and months preceding it.

Throughout the course of a legislature, a government does it best to retain its voter base and increase support. Often, it resorts to money as one method of winning voters over. They may be labelled as populist moves, but there is certainly no better way to win votes than to keep people financially happy. In this sense, the Labour government quickly realised that a tax rebate here and a voucher there could go a long way. It has exercised this practice several times since it was elected in 2013.

But, while this is up to a point understandable – and more so at a time of crisis such as the one we are experiencing now because of the Covid-19 pandemic – it is other, more blatant attempts that often lead the opposition to cry foul.

Personal

This is because it's one thing to give a tax rebate or €100 vouchers across the board, and it's a completely different story when the matter turns personal.

Just to give one example, before the 1987 election, the Labour government had employed 8,000 persons with the public service. It was an obvious move to reduce the high unemployment at the time and also an attempt to influence these 8,000 people and their families.

Rumours that these 8,000 would have been dismissed if the Nationalist Party had been elected prompted the PN to immediately say that all of them would have retained their job. The PN had won that election anyway, and none of the jobs were lost. That move had led to an inflated public service and an exorbitant increase to the costs of running it. That political decision, easily described as an abuse of the power of incumbency, remained a burden on public coffers for years.

The offering of jobs is one way through which a government can use its hold on power in a bid to attract votes. Giving someone a job, especially if it is an open-ended one with no definite contract involved, puts that new employee's mind at rest. It may even serve to win the votes of that employee's closest relatives.

The government may always justify the need to give such jobs. There are natural adjustments that need to be made to replace people who retire. There are then urgent situations which require immediate attention; what comes to mind is, for example, the exodus of foreign nurses who left Malta during the Covid-19 pandemic for a job in the UK which offered better salaries and conditions. Such situations need to be rectified in the short-term and any recruitment to fill in shortages would be necessary. It's when employment takes place without there being a real need which raises concern.

Other methods used by governments to influence voters is through giving appointments in public entities, starting a selection process for promotions of appointments and handing out permits at a faster rate than normal, ranging from massive development projects to a more simpler authorisation for restaurant/bar chairs and tables to be placed on a pavement.

These are all situations that can be used by a government – and its representatives – to manipulate voters. As things stand now, nothing prohibits a government from doing this until the eve of an election.

PBS

The biggest power of incumbency a government can wield is through the State-owned media. PBS, and its predecessors, was always accused of serving the government of the day to the detriment of the opposition. The more an election approaches, the more watchful eyes there are on the way PBS presents its news, runs its current affairs programmes, and deals with day-to-day political situations.

The Nationalist Party is already pointing fingers at PBS, saying that it has been taken over by the Labour Party and seeing to the government's needs. It says that the PN is allotted little time on the national station, and any reports about PN activities and statements carried by PBS are way down in the list of items broadcast in news bulletins. It is likely that such accusations will grow in number as we get closer to polling day.

Tricks

Voters can be influenced in other ways and politicians use all tricks of the trade to get that number one on the ballot sheet.

It can, in a way, also be described as "power of incumbency" when politicians – of both sides of the House of Representatives – hand out roly-polies, oranges, cupcakes, Covid-19 masks or food to anti-poverty charities or in elderly people's homes, to mention just a few examples. There were some who went as far as gifting hampers or bottles of wine to their supporters.

When asked to investigate one recent instance, the Commissioner for Standards in Public Life, George Hyzler, said that the matter did not pertain to alleged breaches of the code of ethics for parliamentary members, but it was one concerning the country's electoral laws.

Under Maltese law, giving out free food, drinks or any other gift in an attempt to influence an electoral choice is illegal, and anyone found guilty is liable to a fine or a six-month prison term. The law, however, has never been applied. One wonders how many politicians would have ended up behind bars – if it had been enforced.

And more would have followed considering the lavish parties politicians hold during the election campaign. Free-flowing drinks and sumptuous buffets are the order of the day, and many constituents end up partying daily, possibly promising a number one preference to each of their hosts.

Even here, laws exist as to how much politicians can spend in their personal bid to get elected but, as we all know, nobody has ever been charged with any breach, let alone face the consequences.

Politicians say that anyone arguing that people can be bought with a small gift is insulting the voters' intelligence.

What's insulting is that there are politicians who think they can do so.


Sun, 19 Sep 2021 09:00:00 +0100

Watch - Prison: Minister says he will take decisions on Alex Dalli based on facts
Home Affairs Minister Byron Camilleri said that he always "takes decisions based on facts," in response to whether he believes Alexander Dalli is the right person to run the Corradino Correctional Facility.
Dalli has been under fire over the way he runs Malta's prison, where 13 inmates died in three years. Dalli has faced calls for his resignation, including by the Nationalist Party. The last inmate to pass away was Colin Galea. Following his death last month, the minister appointed an inquiry board to evaluate the internal procedures within the prison. This inquiry is separate from the Magisterial inquiry.
Camilleri said: "I decide on facts, such as on inquiries. In the coming days I hope to have in hand the copy of the last inquiry. I would also have the report of the inquiry that I had appointed. So every time I come to take a decision, I would do so based on facts, as that is my obligation as a minister."
During the interview, the minister also hinted at certain prison reforms.
"My thoughts are that, in the same way we introduced checks and balances within the Police Force, we would introduce checks and balances in the laws and systems regulating the prison. Through better systems of checks and balances we can provide peace of mind," he said.
During the interview, he does not believe that the police were holding back from investigating high profile individuals in the past. He was also asked whether an investigation should commence into past commissioners, to see if cases were being left on the shelf.
We've seen the police trying to make a push in terms of the fight against financial crime. What kind of manpower does the Police Force have dedicated to combatting financial crime, and do they receive external training?
The financial crimes section saw a 180% increase in human resources. The reality in Malta, Europe and around the world is that crimes are moving from the physical environment to the financial, the digital. Sometimes they would include elements of both. An example would be when hackers stole from BOV. Today those persons, even in another country, with the cooperation of the Maltese police are facing justice.
The officers receive training. People are also joining the Force who would have come out of university, having studied economics, accounts or similar subjects.
Training is always necessary. We are speaking about very complex crimes that are new both for the police as well as the courts. There are times when magisterial inquiries are appointed and others when the police investigate on their own. When looking at magisterial inquiries into such crimes, you can see the complexity of such crimes from the types of experts that are appointed, and the time their reports take. So training is essential, and within the Force training is being given, including to ancillary personnel. Keeping up to date is important, as in a year a lot can change in terms of technology and the financial sector.
The action we are seeing in terms of tackling the alleged big fish seems to be happening now, to a certain extent. As an example, the recent charges regarding Pilatus Bank, but that case, or the issues surrounding it, came about years back. Why did it take so long? Was this a failing of the Financial Crimes Department in the past?
As a minister I am not involved in investigations. So I can speak about this case from the information that we know publicly. There was a magisterial inquiry into this case, it is a complex case, and there was the need for this length of time due to its complexity.
So if a magisterial inquiry that appoints international, knowledgeable experts... if even they took years to establish the elements of such complex crimes, then we surely cannot criticise the police for taking long like that.
This particular case was the subject of a magisterial inquiry and when the inquiry reached its conclusion, the police acted on the inquiry's conclusions.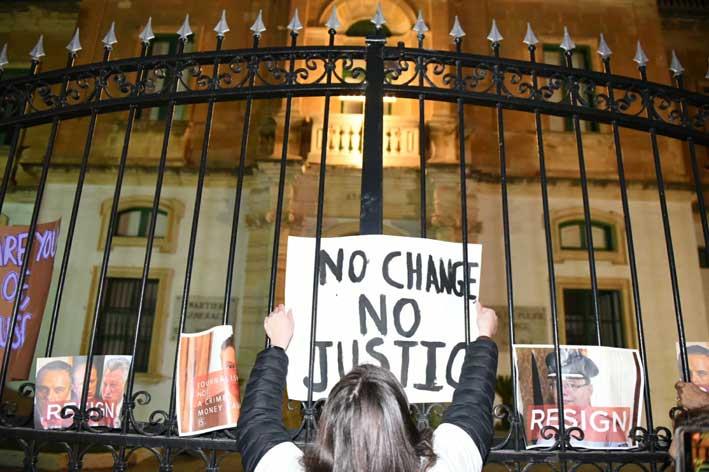 The police were also criticised for allegedly having left cases on the shelf, not doing anything about them. The criticism in this regard was made under a number of past police commissioners. Should an internal investigation be launched to see whether that was the case? If yes, what should be done?
Again, as a minister I am not involved in police investigations. I can only speak about things as they are today as I am the minister responsible today. What I can say is that today, not only I, but the public as well, understand that the Police Force is a serious one. Especially from what we have seen over the last year and a half, one surely cannot say the same about them. So any file there was, that you said was left on the shelf, I think they are going over and are seeing that anyone who needs to be brought to face justice, is brought to face justic
This is a phrase you used many a time, saying the Police Force has changed, worked to improve, but doesn't that imply that the police in the past weren't doing what they were meant to?
No, I am not saying that.
When I became minister, and we began conducting a SWOT analysis of the Police Force before we launched the transformation strategy - through which we were clearer in terms of where we wanted the Police Force to head - I understood that certain criticism was justified, but there was a lot of unjustified criticism particularly as there was a lack of communication.
Today the Police Force communicates more and communicates better. That was one of its major shortcomings. Your legitimate question was, why did the Pilatus investigation take so long? There was a magisterial inquiry. At that time, years ago, the police were criticised unjustly, as the Police Force didn't sit there with hands crossed, but requested a magisterial inquiry. That case went through a magisterial inquiry. I do not think it is a bad thing when one takes time while conducting a serious investigation. It is better to take time and present a strong case to the courts, rather than work haphazardly and have that case fail at the prima facie stage, or not lead to convictions. So I prefer in such cases that the police take their time. On this particular case, again, there was a magisterial inquiry, and so there was unjust criticism.
Police Commissioner Angelo Gafa has received quite a bit of praise as police commissioner. He has received some criticism, but there were a number of commissioners in the past who were also criticised. Do you think any of them were not fit for the job?
I don't think it's up to me to judge. I didn't work with those police commissioners, I only worked previously with Deputy Police Commissioner Carmelo Magri who was acting police commissioner for a time, until I, together with the Prime Minister, changed the way police commissioners are appointed. I understand with regards to those in the past, at times there was criticism. At times today it emerges more than before that it was unjust, while sometimes it could be justified. Everyone faces criticism, including myself and sometimes it is justified, other times not.
I can speak about the year and nine months I have been in this post. I worked with Carmelo Magri for a few months and for the past year and a half I worked with Angelo Gafa as the Police Commissioner.
Going back to a previous question regarding a potential investigation into past commissioners. As the minister in charge of the police, do you personally believe that such an investigation should take place?
When it results that someone did something wrong, it is irrelevant who that person is as it is what a person did that interests me. It is irrelevant if the person is a police commissioner or the average man in the street, and I think that in any case investigations should take place, then it is up to the courts to decide.
But would you personally want it to be launched?
What I have always done as Home Affairs Minister is that, if on occasion it was brought to my attention that someone, irrespective of who they are, did something wrong, I passed it on to the police. And I believe that is how it should always be. Any citizen who thinks someone did something wrong should ask the Police Commissioner to investigate. That is what I do
One point of criticism in the past was that the Police Force would not act against certain high-profile individuals. Has this changed enough? Do you think that the police were holding back in the past?
I don't think they were holding back, as I understand there were magisterial inquiries.
The fact that there is an inquiry means there is an investigation underway. Then it is up to the police to act on the basis of the conclusions reached by the inquiry. I don't think anyone doubts that this is what happens. We must also make clear that once the police would ask for a magisterial inquiry, that investigation would be taking place.
You launched an inquiry to evaluate prison procedures. Firstly, do you have any expectations for the outcomes of this inquiry and, secondly, some are questioning why it took so long for such an inquiry to be launched, there were 13 suicides since 2018 in prison?
That is incorrect, there were 13 deaths, but it doesn't mean that they were 13 unnatural deaths. Last year there was one suicide and this year two. Yes, I do worry when such things happen.
I was the one who asked for a separate inquiry to determine what could be done better, what needs to change and what is good and can be further improved.
One must understand where we left off, where we are today, and where we want to go.
We started with a prison that was a jungle, a free-for-all. The stories that used to emerge in the past confirmed this. There was a court decision, the famous queen of the prison, and the court back then confirmed how the law of the jungle reigned, where prisoners could rule over other prisoners. That is not acceptable.
Today there is order. Because there is order, we can focus on the rehabilitation of people. I am convinced that the people agree that prisoners need to be rehabilitated. Rehabilitation can be built on order, not on disorder.
Rehabilitation began. There are professionals, and medical professionals who do their job, but this also happened at a time when there was an increase in the prison population. The prison population over the last two and a half years exploded. So that is not enough, but we can build more rehabilitation processes through order.
We will soon announce new methods with regard to how there can be more checks and balances, and in the budget we will reveal rehabilitation processes that I believe the prison system will see for the first time.
Some people argue that the person running the prison, Alexander Dalli is too militaristic, and we have seen allegations that he is using punitive treatment. Have you spoken to him about the situation?
I have an obligation to discuss with Alex Dalli as he is the head of an agency that falls under my responsibility. In prison today there is more order. There is a better base on which we can build. I expect there to always be checks and balances.
My thoughts are that, in the same way we introduced checks and balances within the Police Force, we would introduce checks and balances in the laws and systems regulating the prison. Through better systems of checks and balances we can provide peace of mind, including over how the Prison's Monitoring Board operates.
Another is to introduce a welfare officer, who would not only be obliged to ensure that what you said does not happen, but if the officer would notice something happening that shouldn't be, can go before the Monitoring Board for a decision.
Given the concerns regarding Alex Dalli, as the person who runs the prisons, and here I point out that there have been calls for his resignation including by the Opposition, do you still think he is the right person for the job?
I always said that I take decisions based on facts. I will do the same today. I take decisions on facts, not speculation.
At times there was speculation. I decide on facts, such as on inquiries which conclude for example. In the coming days I hope to have in hand the copy of the last inquiry. I would also have the report of the inquiry that I had appointed. So every time I come to take a decision, I would do so based on facts, as that is my obligation as a minister.
Shouldn't this inquiry have come about a few years back, when the allegations regarding Dalli began surfacing?

I take my decisions based on facts.

if an inquiry regarding an allegation finds that the allegation isn't a fact, then there would be no action to take. For example, a few months ago there was a prisoner who made a number of allegations. The feedback I received was that they were probably not true. He had made a request in court, which it did not uphold. I had gone a step further and asked the Monitoring Board to also review the allegation.

The Monitoring Board looked into the case. The allegations were found not to be true. Imagine if I had taken a decision that day.


So again, I take decisions based on facts. My story over the past year and nine months I have been in this ministry shows that I do take decisions.

I felt there was need for this inquiry as it was the first moment that showed there might be something wrong. So I asked for this inquiry which is separate from the magisterial inquiry, in order to assure that if there is a need for change, that change will be made, and it would be done on the basis of the recommendations of professionals, on whom I don't think anybody doubts their knowledge of the sector.

You mentioned overcrowding in prison. How do you intend to tackle that issue? Do you have any idea as to the way forward?

There should be three levels within our prison system. The first is electronic tagging. The second is low or lower security prisons. The third level is a high security prison.

One of the problems we currently have is that, unfortunately, everyone is in the same boat, from the biggest criminals to a person who is in jail but likely doesn't have a criminal character.

These people mix together, which I don't think is a good thing.

You have a few dangerous persons who Correctional Facility workers will themselves tell you that they need to be careful around at all times. Then you have people who aren't dangerous. We need to make a distinction between these people and the crimes they would have committed.

Electronic tagging would be able to be ordered by the courts for people who would have been handed down an effective prison sentence of one year or less for crimes punishable by not more than two years. We are speaking about persons who I don't think are a danger to society. We are including certain exclusions to the use of electronic tagging for certain offences, such as in cases of domestic violence, gender-based violence, among others.

So for those eligible, the court would be able to order electronic tagging instead of sending someone to jail for a year or less, and they would serve that sentence in their own home. They might require the person to remain locked up in their home the whole time, or would permit that the person could go to work or university as well for example. In this way we believe it can help better with their rehabilitation.

It will also help with the prison population issue, but this also by the creation of lower or low security prisons. We already have the Rise project, which is exceptional, where there are a number of people nearing the end of their sentence living in a house. The idea is for an open door policy, with strict regulations. If they risk breaking the rules, then the person would go back to jail.

We can have other types of low-security prisons, which can also be within the prison itself, where in such zones or buildings we can have a reduced ratio of prison warders to prison population, and they can be replaced by people coming from the rehabilitative and medical side of things. In this way we will also continue helping in terms of rehabilitation.

The reality remains, however, that you would need a higher-security prison, as we know of cases where, for example, the police ended up having a shootout in the street in order to arrest certain people.

More information will be revealed in the coming budget.


Sun, 19 Sep 2021 08:30:00 +0100

Infrastructure Malta dished out over €41 million in direct orders since 2019


Data compiled and analysed by The Malta Independent on Sunday shows that Infrastructure Malta handed out 364 direct orders worth €41.7 million in the space of two years and a half.

The National Audit Office have discouraged the use of direct orders, saying that these should only be used in exceptional cases and should be approved by the Finance Ministry before being awarded into.

However, while some of the 364 direct orders do concern tasks of a more specialist nature, the vast majority of them are for road works – some either deemed as "urgent" or "emergency" – or things related to road works such as road signs and landscaping.

The same data shows that there were a further 106 variations to previously awarded contracts, which resulted in an additional spend of almost €7.7 million, in the same period.

The period analysed was from the beginning of 2019 to June 2021.

Questioned about its use of extensive direct orders two weeks ago, when The Malta Independent on Sunday reported that the roads agency had splashed out over €10 million in direct orders in the first six months of this year, an Infrastructure Malta spokesperson said that "in situations where direct orders are required, Infrastructure Malta ascertains affordability and value for money through several checks and balances, including, where possible, requesting quotations from different service providers or suppliers capable of providing the specified products or services."

The spokesperson said that direct orders are generally used to launch "urgently required repairs" or to provide additional services to contractors of major projects to provide services which "could not have been possibly foreseen during planning stages."

Such variations meanwhile, the spokesperson had said, are permissible and stipulated as part of the normal, long-established conditions of all works contracts. "These conditions allow for variations of up to 50% of the original contract values to make sure that if any such unforeseen requirements are identified, works can continue without unnecessary delays."

The analysis of the data, which is all published in the Government Gazette, now allows us to draw up a list and profiles of the companies who have received the most off of Malta's roads.

Bonnici Brothers

The brainchild of four brothers - John Bonnici, Mario Bonnici, Emanuel Bonnici, and Benjamin Bonnici - Bonnici Brothers is the company which received the highest amount of money in both direct orders and variations.

Indeed, the company received nine direct orders worth €3.91 million and another nine variations worth €1.86 million – bringing the total received up to €5.77 million – 2 million more than any other company in this list.

The largest of those nine direct orders is a €1.4 million contract for the "reconstruction of Ta' Qali Phase 3" on 25 March 2019, which was subsequently followed by an €845,000 direct order for Phase 4 of the same project – a direct order also issued on 25 March 2019.

Two variations meanwhile also exceeded €500,000 – with the company being granted a variation of €559,156 for the widening and upgrading of Triq Ħal Qormi and Triq San Tumas, Ħal Luqa, and another €541,734 for the widening and upgrading of the same roads again.

The company was involved in the Coast Road project and has been on the receiving end of a number of multi-million tenders from other ministries, such as a recent €3.4 million tender from Water Services for the construction of a storage warehouse and over €6 million in direct orders for the Ta' Kandja shooting range – a project which went well over its budget in 2018.

B. Grima & Sons

A company which was established in 2004 and which specialises in street furniture was the one which was on the receiving end of the most direct orders in terms of quantity.

In fact, B. Grima & Sons – led by Abraham, Isaac, and Adam Grima – received 23 direct orders in the period analysed, which together were worth a total of €621,615.

The vast majority of these were for "emergency" signage for projects or line markings as part of projects. The largest of the direct orders was a €112,140 direct order for the "supply, lay and install line markings and signage at the Marsa Junction."

Galletta Construction

Owned by Adrian Muscat and registered in February 2018, Galletta Construction received the second highest amount of direct orders from the state roads agency.

A total of 17 direct orders were awarded to the company, worth a total of €2.53 million.

All of these direct orders are for road works, with the vast majority being for "emergency concrete resurfacing" of certain roads.

The direct orders with the company however have seemingly tailed off as of late: only one of the 17 contracts was awarded in the first six months of 2021. 13 were awarded in 2019 and the remaining three were awarded in 2020.

Matthew Bongailas Turnkey Services

Matthew Bongailas Turnkey Services was on the receiving end of 15 direct orders in the two-and-a-half years surveyed by this newsroom, with the total amount being received from these contracts being just over €1.5 million.

Bongailas himself is a massive, self-professed supporter of Robert Abela's administration, and he subsequently had encouraged party members to vote for the now-Prime Minister in the Labour Party leadership race in January last year.

He continues to frequently post pro-government content on his Facebook profile.

Most of his direct orders are related to resurfacing works, save for one where the state agency paid €61,988 for the installation of planters in a street in Qrendi, and the largest one is a €416,463 direct order for "resurfacing Concrete Works, Potable Water and Replacement of Irrigation Pipes at Triq Ħabel Gendus, Burmarrad."

BAVA Holdings

The company, opened in August 2013, is owned by Brigida Agius, Valerio Camilleri, Adolphus Camilleri and Alviero Camilleri – some of whom are also shareholders behind the well-known company Construct Furniture.

They received three direct orders worth just over €1 million from Infrastructure Malta, with the bulk of that being made up by a direct order of almost €800,000 for works at Triq il-Fortizza in Mosta.

BAVA Holdings and Construct Furniture have been on the receiving end from other ministries – including the Office of the Prime Minister – in the past.

Construct Furniture itself in fact received a €31,000 direct order from Infrastructure Malta for the provision of office furniture.

Philip Agius & Sons

Known as 'Ta' Maksar', Philip Agius & Sons was awarded the most variations – 22 – from anyone in the two and a half years surveyed.

The company received €337,503 across the 22 variations along with €141,241 across four direct orders.

Polidano Bros

Polidano Brothers – led by Charles Polidano, who is better known as 'ic-Caqnu' – needs very little introduction.

The company received just two direct orders in this period – worth €571,012 – but is involved in a number of consortiums and joint ventures which received substantially more than that.

Polidano was also black-listed by Infrastructure Malta in 2020 because it had racked up a huge tax bill worth some €40 million which stretched back all the way to the 1990s. Polidano reportedly eventually struck a deal to settle his dues with the taxman.

He has also had a number of well-documented run-ins with the Planning Authority over his facilities at Hal-Farrug and the Montekristo Estate in the same area.

Kosta JV

Kosta Joint Venture, made up of Polidano Brothers Ltd, Philip Agius & Sons and Central Asphalt Ltd and their sub-contractors, was initially formed to work the €49 million Coast Road tender.

The joint venture however then received no less than 12 direct orders from Infrastructure Malta, worth a total of just over €3 million, and three variations worth just north of €700,000.

The largest direct order was of €625,570 in connection with the upgrading of a junction which was specified in a tender, while €524,435 was also paid in a direct order for the upgrading of the Canon Road bypass.

Out of the three shareholders, only one doesn't feature in the list of direct orders issued: Central Asphalt Ltd.

That company is solely owned by Carmel Vella Limited – which is what seems to be a family business established in 1971.

Amongst the shareholders of that company (she has the least shares out of any shareholder) though is Josette Schembri Vella – the wife of former OPM chief of staff Keith Schembri, who was charged with money laundering in connection with a separate company just last Friday.

ELC

Established in 2003 as the Environmental Landscaping Consortium, ELC is a consortium led by Calamatta Landscapes and Polidano Group which has entrusted with landscaping and general maintenance work in public areas and gardens.

It received a total of €1.77 million across 14 direct orders – the largest of which being a €1 million direct order for the "embellishment" of the Central Link project.

RM Construction Ltd

RM Construction is a company which is set up as a collaboration between Asfaltar, who didn't receive any direct orders in this period as an isolated company but were on the receiving end of €195,469.85 across six tender variations, Bonnici Brothers, and Schembri Infrastructures.

Registered in April 2013, the company was awarded the €15 million tender for the development of the underpass which now runs underneath the Tarxien-Santa Lucija roundabout, and it was also involved in the Central Link project.

It received a total of seven direct orders worth €1.6 million and another two variations on tenders worth just over €165,000.

BIFRA JV

It is unclear who this joint venture is made up of, but public records do show that it is registered at the same address as BAVA Holdings and Construct Furniture is in Luqa.

It didn't receive any direct orders, but won the €10 million tunnel rehabilitation project – for which it has received an additional €1.1 million in variations for.

Link-2018 JV

Link-2018 JV is the consortium which was awarded the massive Central Link project is made up of a company called V&C Construction, Schembri Barbros, and another company called Schembri Holdings.

It received two direct orders worth €478,411 and a single variation worth just over €1 million, which was for the "upgrading of the Comprehensive TEN-T network between Mrieħel and Rabat" – believed to be connected to the addition of a tunnel underpass to the Central Link project at the MFSA junction.

Other companies which received significant amounts of direct orders:

Elbros Construction: €2.8 million across three direct orders, €1.9 million of which was a single direct order for works on Jetty 3 at St. Thomas Bay in Marsascala.

Ballut Blocks Services Ltd: €2.81 million across two direct orders, which were for underwater and quay edge repairs at Cirkewwa and the construction of a wave wall in Mellieha.

Schembri Barbros Ltd: Received two direct orders worth a total of €470,000 and a tender variation of just over €100,000. Forms part of Link-2018 JV as well.

Schembri Infrastructures: €483,201 across five direct orders along with another €387,143 across eight variations. Forms part of RM Construction Ltd as well.

Tal-Maghtab Construction: €493,733 across for direct orders. The Malta Independent on Sunday last year had reported how the company was operating out of a batching plant which had no PA permits for the last 20 years. That plant was finally approved earlier this year.

T&C Ciappara Construction Ltd: €812,570 across two direct orders.

Boat Maintenance Ltd: €1.58 million across four direct orders, the bulk of which was a €1.2 million direct order for repairs at Balluta Bay in St. Julian's.


Sun, 19 Sep 2021 07:30:00 +0100

Malta Independent.com.mt
Laatste 50 Nieuws Berichten en/of updates van database dinsdag
- NuTech.nl
Toezichtraad Facebook onderzoekt vrijstelling van regels voor bekende mensen
-Tue, 21 Sep 2021 21:34:50 +0200
- opiniez.com
Een SPD-Bondskanselier wil meer EU en minder begrotingsdiscipline
-Tue, 21 Sep 2021 19:28:58 +0000
- leeuwarder_courant
KNMI spot waterhozen bij Terschelling: code geel afgekondigd voor Waddengebied
-Tue, 21 Sep 2021 20:24:03 +0100
- E.J.Bron Vertalingen
LEGITIMATIEPLICHT…
-Tue, 21 Sep 2021 19:23:52 +0000
- die_zeit
Bundestagswahl: Scholz-Auftritte von Protest überlagert
-Tue, 21 Sep 2021 18:59:23 -0000
- Parool
Gejubel over de economie, maar huidige koers kan tot tweedeling leiden
-Tue, 21 Sep 2021 18:49:04 GMT
- die_zeit
Tatjana Turanskyj: Vorkämpferin für Veränderungen
-Tue, 21 Sep 2021 18:45:13 -0000
- die_zeit
Corona weltweit: EU will verstärkt gegen Fehlinformationen zu Impfungen vorgehen
-Tue, 21 Sep 2021 18:39:26 -0000
- Parool
Ook in Sittard regent het Ajaxgoals
-Tue, 21 Sep 2021 18:38:31 GMT
- die_zeit
Humboldt Forum: Mehr Humble Forum, bitte!
-Tue, 21 Sep 2021 18:30:18 -0000
- Russia_Today
Pentagon feigns concern over civilian-killing Afghan drone strike…after 20 years of indiscriminately mowing down the innocent
-Tue, 21 Sep 2021 18:29:13 +0000
- Russia_Today
Up for it: French football fan facing up to 1 year in jail after 'MASTURBATING in front of rival supporters' during crowd clashes
-Tue, 21 Sep 2021 18:29:12 +0000
- die_zeit
Azza Karam: "Männer sind besonders gut im Weghören"
-Tue, 21 Sep 2021 18:28:38 -0000
- Alarmeringen_Friesland
broek in waterland - n247 vrijhouden voor hulpdiensten
-Tue, 21 Sep 2021 18:22:31 +0000
- die_zeit
Corona in Deutschland: Verbraucherschützer gegen höhere Versicherungsbeiträge für Ungeimpfte
-Tue, 21 Sep 2021 18:15:15 -0000
- die_zeit
Corona-Zahlen: Coronavirus in Europa und der Welt – alle Zahlen im Überblick
-Tue, 21 Sep 2021 18:15:04 -0000
- die_zeit
Coronavirus-Karte für Deutschland: Coronavirus in Deutschland und bei Ihnen – alle Zahlen im Überblick
-Tue, 21 Sep 2021 18:15:02 -0000
- Yahoo News
Biden says US not seeking new 'Cold War' as he vows to lead
-2021-09-21T18:14:14Z
- die_zeit
Stromboli: Der Vulkan und wir
-Tue, 21 Sep 2021 18:12:58 -0000
- Russia_Today
Amazon, Facebook & Uber pledge to hire Afghan refugees to support US economic 'vision'
-Tue, 21 Sep 2021 18:07:31 +0000
- Chinapost.nownews.com - Taiwan
Tribe wants Boston U to change name of Myles Standish dorm
-Tue, 21 Sep 2021 18:04:48 +0000
- Chinapost.nownews.com - Taiwan
In shift, DHS head says images from border 'horrified' him
-Tue, 21 Sep 2021 18:04:45 +0000
- Russia_Today
MSNBC's Joy Reid stirs up anger over Gabby Petito case, says public only cares because of 'missing white woman syndrome'
-Tue, 21 Sep 2021 18:04:30 +0000
- Chinapost.nownews.com - Taiwan
Qatar's ruler urges world leaders not to boycott Taliban
-Tue, 21 Sep 2021 18:04:28 +0000
- Chinapost.nownews.com - Taiwan
Review: Johnson explores violence against Native Americans
-Tue, 21 Sep 2021 18:03:58 +0000
- Chinapost.nownews.com - Taiwan
In 'This is the Night,' a love letter to cinema, 'Rocky III'
-Tue, 21 Sep 2021 18:03:44 +0000
- die_zeit
Nemi El-Hassan: Darf sie ins Fernsehen?
-Tue, 21 Sep 2021 18:03:44 -0000
- Chinapost.nownews.com - Taiwan
Review: 'Echoes of the Dead' is a fast-paced thriller
-Tue, 21 Sep 2021 18:03:31 +0000
- Russia_Today
WATCH: Fire breaks out at iconic Superdome in New Orleans as flames and smoke seen billowing across city
-Tue, 21 Sep 2021 18:01:47 +0000
- Yahoo News
Standoff over debt ceiling as Democrats push stopgap funding bill
-2021-09-21T17:59:01Z
- Chinapost.nownews.com - Taiwan
Report: Births decline in pandemic may have turned corner
-Tue, 21 Sep 2021 17:58:58 +0000
- Chinapost.nownews.com - Taiwan
UN agencies want access to asylum-seekers stuck at EU border
-Tue, 21 Sep 2021 17:55:04 +0000
- die_zeit
Alexander Kekulé: "Man kann und muss den Leuten mehr zutrauen"
-Tue, 21 Sep 2021 17:55:04 -0000
- Chinapost.nownews.com - Taiwan
Judge moves ahead with key hearing in Boy Scouts bankruptcy
-Tue, 21 Sep 2021 17:54:59 +0000
- Russia_Today
'No closer ally,' Biden says of far-off Australia amid row with oldest ally France over anti-China AUKUS pact
-Tue, 21 Sep 2021 17:52:58 +0000
- die_zeit
Klimaschutz: Wie öko ist Olaf Scholz?
-Tue, 21 Sep 2021 17:52:56 -0000
- Russia_Today
Senate leader Schumer calls on Biden to end 'hateful' Haitian deportations
-Tue, 21 Sep 2021 17:47:52 +0000
- NuTech.nl
Slack brengt opnamefunctie voor werkupdates uit
-Tue, 21 Sep 2021 19:41:47 +0200
- Chinapost.nownews.com - Taiwan
Dakota Access asks high court to reverse pipeline decision
-Tue, 21 Sep 2021 17:32:51 +0000
- Google News Corona
Op de intensive care door corona, maar nog steeds geen vaccin willen - Volkskrant
-Tue, 21 Sep 2021 17:30:44 GMT
- die_zeit
Idar-Oberstein: Mutmaßlicher Tankstellen-Schütze teilte Querdenker-Inhalte
-Tue, 21 Sep 2021 17:24:31 -0000
- Yahoo News
Coroner expected to release autopsy for body believed to be Gabby Petito
-2021-09-21T17:14:00Z
- Scientas.nl
Bang voor spinnen? Jouw smartphone kan helpen!
-Tue, 21 Sep 2021 17:09:05 +0000
- leeuwarder_courant
Nieuwe milieustraat in Heerenveen moet bij modern afvalcentrum komen
-Tue, 21 Sep 2021 18:00:31 +0100
- Russia_Today
'Size zero chest': Russian Olympic golden girl Romashina takes down troll after body-shaming attempt
-Tue, 21 Sep 2021 16:54:54 +0000
- die_zeit
Sexueller Missbrauch in der Kirche: Schmerzhaftes Geld
-Tue, 21 Sep 2021 16:52:22 -0000
- Russia_Today
Biden hails end of 'relentless war' in first UN speech, but vows to focus on 'Indo-Pacific' amid tensions with China
-Tue, 21 Sep 2021 16:52:16 +0000
- Yahoo News
COVID cluster outbreaks could signal pandemic is nearing the end
-2021-09-21T16:52:00Z
- AllAfrica
Mozambique: Access to Justice Remains Challenge for Mozambicans
-Tue, 21 Sep 2021 16:48:45 GMT
- NuTech.nl
Aanbieder cryptofoons Ennetcom schuldig aan ondersteunen van criminaliteit
-Tue, 21 Sep 2021 18:48:26 +0200